The Scottish Highlands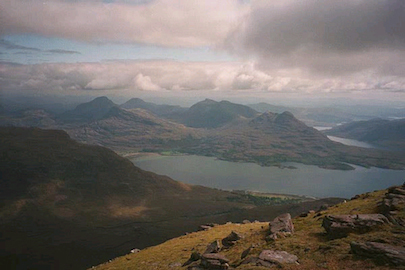 Walking in the North West of the Highlands
My first experience of the Highlands was on a family holiday to Perthshire as a teenager where we found mountains and lakes on an altogether grander scale than anything we'd seen in the Lake District (with the possible exception of Scafell Pike and Wasdale Head).
It was not until I was in my twenties that I had the opportunity to explore the steepest mountains in Britain – the Black Cuillin on the Isle of Skye. We camped for a week at the foot of these majestic peaks at a windswept campsite in Glenn Brittle one June. For the first two mornings we tried unsuccessfully to heat water for tea and hydrating our freeze-dried meals. The howling winds prevailed. It would usually take over 1 hour to boil a single pan of water, and we conceded defeat by driving for 30 minutes each day for a full cooked breakfast before we embarked up the hills. Further insulation from the cold was provided by a visit to the local distillery, to taste the fiery Talisker whisky, although the stench from the stills was overpowering.
The Cuillin consist of a seven mile long ridge of peaks, many of which are well over 3,000 feet high. Every route to the ridge is mercilessly steep and requires scrambling up huge scree slopes. The first winter traverse of the ridge was only completed in 1967, and requires significant climbing experience. The peaks are shrouded in cloud for an average 300 days each year, and during our trip we encountered snow and hail, during what is supposed to be the mildest month of the year. There are many wonderful landscapes on Skye, including the areas around the Old Man of Storr, and historic sites such as Dunvegan Castle, home to the same clan for over 800 years. But we were always drawn back to the Cuillin.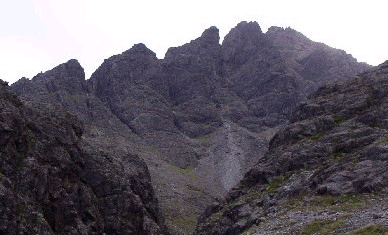 We climbed to the main ridge several times during our stay, but the most unforgettable "walk" was our excursion to the summit of Sgurr Nan Gillean, the third highest peak in the range. The summit was shrouded in mist when we started the climb. This was the only mountain hike I've attempted where some rope climbing was required (albeit a short one up a steep but short gully when we missed the path), and it was a strong reminder how quickly cold and fatigue can set in when you stop moving. We finally came to the last part of the climb – a giddyingly exposed razor-edged ridge to the pinnacle of the summit. The "path", such as it was, was barely a foot wide, and was covered with ice, with enormous drops on either side. I was absolutely terrified and crawled the last few yards. And then, some magic weather hand scooped up the cloud and revealed a noble panorama of mountains stretching back on the mainland. All my fear vanished, replaced by a joyful euphoria at reaching the top which made the long journey back down seem like a level walk to the shops.
On another camping holiday, this time in Arisaig on the mainland just south of Skye, we hired mountain bikes and caught the ferry to the island of Eigg. We spent several happy, carefree hours exploring this small oasis of rock which has a population of 50 people and seemingly twice the number of tractors. At the far end of the island we discovered a beach with black volcanic sand which whistled strangely as the cycle wheels ploughed through it, with spectacular views of the nearby mountainous island of Rhum.
Our last visit to the North West Highlands was the most wide-ranging. We took the sleeper train from London to Inverness, then hired a car to travel around the north west coast as far north as Ullapool – a small, vibrant fishing town with a surprisingly eclectic arts scene surrounded on all sides by mountains. This area is part of the last great wilderness in Great Britain, with rough mountains, pristinely clean waters and beaches and virtually no signs of human habitation apart from isolated villages.
Two particular highlights for us were the Isle of Lewis and the mountains of Torridon. Lewis is the largest of the Outer Hebridean islands, and struck us with it's unremittingly bleak heathery landscape in the north, in contrast to the moon-like quality of the mountains in the south. The stone circle at Callanish is in some ways more striking than Stonehenge – for one thing there are no major roads nearby and there is a palpable atmosphere. One can easily imagine the tall, gaunt stones coming to life to re-enact some long lost ancient rituals.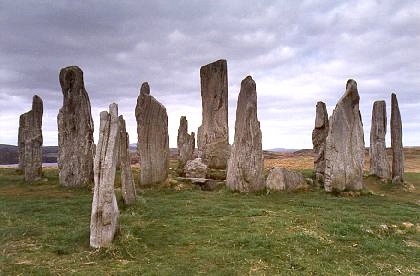 It was on Lewis that we found a most extraordinary place to stay – Baile-Na-Cille at Timsgarry, on southern Lewis (http://www.bailenacille.com/), nestling against a breathtakingly beautiful beach with turquoise blue seas. It's a converted manse run as a very relaxed and informal hotel by a former industrial psychologist and his wife. The rooms were comfortable and we were made to feel like members of the family. Guests shared one dining table and after our initial reluctance (our companions were considerably older and were ex-military staff, one of whom had written our guide book for the islands!), we had a memorable evening, with lots of laughter and too much to drink. I realised afterwards how good our fellow guests had been in putting us at ease – an object lesson for me in later life.
The noblest mountains I've explored so far in Scotland belong to the Torridon range, which climb steeply from the shores of Loch Torridon into a variety of shapely pinnacles and ridges. We spent an exhilarating and exhausting day walking round Ben Alligin. There were very few visitors. In fact we were outnumbered by the group of red deer that we spied in the distance walking proudly along a stalking track. After walking for over six hours, we realised the light was fading fast and we still faced a substantial downward scramble over steep heather and rock covered slopes to get back to the car park. The wonder of the views over the sea and mountains was tempered with more immediate concerns about losing our footing in the dark. How we relished our evening meal of fresh fish after that walk – eating like hungry wolves!
There is one mountain which continued to draw my eye and imagination. Liathach, which means "the Grey One" rises alone almost 3,500 feet high from the sea and has a four mile long ridge with some extreme scrambling. This is a mountain which I know will test me, and which I long to go back to, albeit with a guide.
This hauntingly beautiful region will always stay with me. Those wild peaks looming over the tiny whitewashed houses stand as everlasting guardians of the earth, keeping a watchful eye on a scale of change we will never understand. I hope to return one day with our children when they are a little older and whilst my limbs and love of the mountains are strong enough to overcome my fear.
Geoff Butts, January 2008